Early in the year, Scottsdale Museum of Contemporary Art presents an exhibition of international designers that position environmental concerns and sustainability at the center of their process and a yearlong collection show that highlights powerful works by women artists in conjunction with the national platform Feminist Art Coalition.
Summer at SMoCA debuts a new light and space installation by Phillip K. Smith III and a group exhibition of Iranian photography and video that introduces viewers to the often-hidden experience of life in Iran.
During the fall, an installation of ceramic sculptures by Nathan Lynch sets a stage for performances about varying viewpoints in a Post-Truth Era, and an exhibition by Brad Kahlhamer presents new works in a variety of mediums that offer a meditation on the nomadic and intersectional contemporary condition that involves a social network of individuals of different ages, residency status, class and race.
Each new exhibition will kick off with an opening party that includes free admission for the public to preview the galleries with curators, artists and the community. The first opening will be held Feb. 14, a fitting final celebration of 20 years of SMoCA.
Design Transfigured/Waste Reimagined
Feb. 1, 2020 – May 17, 2020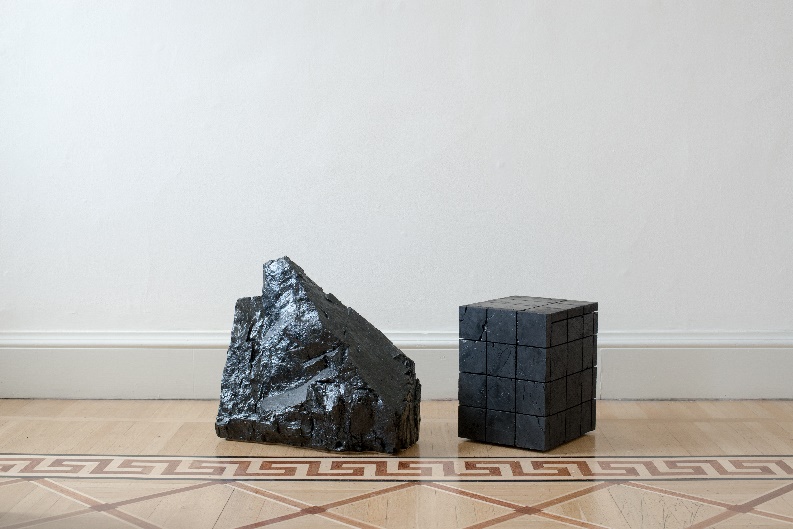 Jesper Eriksson, "Coal:Post-Fuel low table," 2018; Anthracite coal; 19.3 x17.6 x18.8 inches
PHOTO BY JESPER ERIKSSON, COURTESY OF THE DESIGNER
Design Transfigured/Waste Reimagined is the first exhibition to recognize designers using extreme and inventive upcycling to address the current state of our depleted and polluted environment. Waste produced by humans is so abundant that it is disrupting natural resources. In order to reduce our footprint on earth, these 30 international designers and studios — from Asia, Latin America and Europe — are pioneering a new direction in design by radically transforming waste into useful products. Many of the designers are recent graduates or faculty of design academies and universities, noting a shift in the world of design and design education, from function at the service of aesthetic considerations to socially responsible, environmental remediation.
---
Unapologetic: All Women, All Year
Feb. 15, 2020 – Dec. 6, 2020
Kara Walker, "Untitled," 1998. Lithograph; 34 1/8 x 26 ¾ inches. Gift of Joe Segura
Historically, women make up less than 15 percent of artists in museum collections nationally. In response to this lack of inclusion, Unapologetic: All Women, All Year takes an in-depth look at works from SMoCA's collection, highlighting diverse women artists whose work boldly and unapologetically addresses identity, beauty, violence and equality. This exhibition's title conveys a sense of strength, calling for systemic change within culture, where individuals of all gender, sexuality, race, ethnicity, class, age and ability see themselves represented within museums. On view during the 100th anniversary of the Women's Suffrage Movement in the United States, Unapologetic aims to create a space that recognizes the importance of equality within cultural institutions.
The exhibition is part of Feminist Art Coalition, a national platform for art projects informed by feminisms. For more information, visit feministartcoalition.com.
---
Phillip K. Smith III (working title)
June 6, 2020 – Oct. 4, 2020

Phillip K. Smith III, "10 Columns"
PHOTO BY LANCE GERBER, COURTESY OF BRIDGE PROJECTS AND THE ARTIST
Southern California artist Phillip K. Smith III creates experiential art that highlights changes in perception as related to light, color, time and space. Using mirrors, aluminum and LEDs, the artist's interior installations provide richly hued environments that respond to the architecture. As with other artists of the Light and Space movement, Smith transforms spaces to expand the sensorial experience of viewers. This exhibition presents new large-scale works that incorporate a precisely paced program of changing colors.
---
Urban Mapping: Public Space Through the Lens of Contemporary Iranian Artists
June 13, 2020 – Sept. 20, 2020 
Arash Fayez, "Four Megaphones in Four Cardinal Directions," from the series "Ramblings of a Flaneur," 2008–11
PHOTO BY ARASH FAYEZ
Urban Mapping: Public Space Through the Lens of Contemporary Iranian Artists shines a light on aspects of the Iranian experience normally hidden from the outside world by focusing on public and private spaces. Comprising 40 photographs and four video installations, the exhibition features the work of 10 essential voices in contemporary Iranian art who explore the notion of urban space as a nexus of social communication and political transformation; a place where personal and collective identity converge.
---
Nathan Lynch: Truthiness (working title)
Oct. 3, 2020 – Jan. 17, 2021
Nathan Lynch, "untitled (black puddle curtain)," 2019; ceramic, cedar, denim, ink, polyester
PHOTO BY JOHN JANCA, COURTESY OF THE ARTIST
The sculptor and performance artist Nathan Lynch shapes objects and situations that are focused on formal qualities of sculpture, as well as satirical and philosophical observations about human nature. In Truthiness (working title), Lynch's installation of handmade ceramic sculptures foster awkward, semi-public interactions between individuals, highlighting a shared experience of vulnerability. The abstract sculptures obscure the boundary between fact and fiction, presenting a physical metaphor to contradictory messages shared through the media about current political events. The forms appear malleable, almost shifting, and refer to the confusion created by the elastic nature of truth in contemporary American culture. The exhibition is accompanied by a variety show with storytellers, singer/songwriters, comedians and political scientists who create new works based on the same prompt in order to further consider the range in which truth can exist.
---
Brad Kahlhamer: Swap Meet
Oct. 17, 2020 – Jan. 31, 2021
Brad Kahlhamer at the Drawing Center (2019)
PHOTO BY GREGORY GOODE
New York City-based Native American artist Brad Kahlhamer first exhibited at SMoCA in 2004 with the hugely successful exhibition Let's Walk West. For his second SMoCA exhibition, more than 15 years later, Kahlhamer draws his inspiration from the ethnographic experience of "field-work" at swap meets throughout the Southwest, with which he has engaged since his childhood in Arizona. The social and cultural space of the swap meet models and fuels Kahlhamer's artistic practice in varying mediums of painting, drawing, sculpture, installation, performance and music, as well as a new commission. At the cross-section of Native American cultures and his own culture as an artist, Swap Meet becomes Kahlhamer's meditation on a nomadic and intersectional contemporary condition that involves a social network of individuals of different ages, residency status, class and race.
More in

Culture